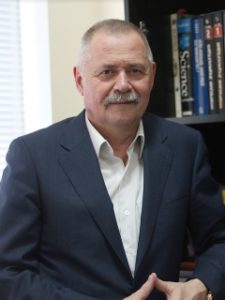 Professor of the Department of Physical Fundamentals of Electronic Equipment
CURRENT  RESEARCH  INTEREST:
physical processes in  systems of particles with electromagnetic interaction;
influence of high-power microwave electromagnetic radiation to the electronic equipments;
microwave theory and techniques;
dynamical chaos in microwave electronic and optoelectronic devices;
computer modeling of electron-wave and electromagneticproblems in microwave electron devices including noise phenomena.
International activity
Participating in international scientific projects of the STCU, 2009 – 2011.
Reading lectures at universities and companies abroad:
The Iranian company "Mongtader Engineering Co.", 2009;
Sharif University, Tehran, 2010 – 2012.
Seoul University, South Korea, 2010.
Institute of Photonics, Wuhu, Chine, 2017.
Social activities
Editor-in-chief of the scientific and technical journal "Applied Radio Electronics".
An expert of the Ministry of Education and Science of Ukraine on the Section "Electronics, radio engineering and telecommunications", Vice- chair of the Section.

Member of editorial board of magazines: "Applied radio electronics", "Microwave engineering and devices" and "Electronics and communication"
A

wards and prizes
IEEE Appreciation Certificate to Gennadiy Churyumov, Vice-Chair of SPS Ukraine, Kharkov Chapter, obtained from the Institute of Electrical and Electronics Engineers  (IEEE) (USA), 2014.
The commendation from Prime-Ministry of Ukraine, obtained from Prime-Ministry of Ukraine, 2011
The award from Minister of Education & Science of Ukraine, obtained from Ministry of Education & Science of Ukraine, 2009.
IEEE Appreciation Certificate to Gennadiy Churyumov, Chair of the SP/AP/C/EMC Kharkov Chapter Ukraine Section, obtained from the IEEE , 2008
Publications and patents
More 320 scientific publicationsfrom which more100 articles in different refereed journals.
More 50 patents.