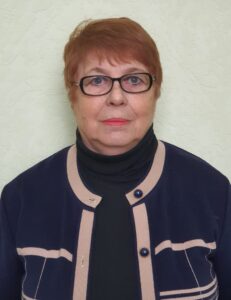 Assistant professor
In 1972 she graduated from HNU (Kharkov national university)  with a degree in «Physical chemistry».
Scientific interests – composite materials and their application in radioelectronics.
Lecturing following subjects: «Сhemistry», «Physical chemistry», «Physical –chemical basics of poligraphy», «Material sciense».
She has 10 scientific publications, 35 methodical works, 1 patent.
In 1995-1996 – the winner of the competition "The best in the profession."
In 2002 she was awarded a diploma of the Ministry of Education and Science of Ukraine.